Corrales was a tall rangy banger, who specialized in throwing laser-like right hands down the middle. A very underrated boxer with brilliant ring-craft,
Corrales packed the punch of a heavyweight and could put opponents to sleep with a single shot.
He had the desire and ability to wack guys out but had the skill and endurance to go the distance if needed. The smooth moving Corrales liked to throw shots from a number of different angles and despite his size, he could box well on the inside and he threw nasty right hand uppercuts in close quarters.
Diego freely spoke of his 'bad temper' and his ego sometimes got the better of him. His pride and unquestionable will to win drew him into wars where he often took more shots than he needed to. While some fighters may choose to box and score, he always elected to trade and go for the KO. This is what made Corrales such an exciting fighter to watch.
Corrales fed off the crowd and loved to please the fans, and please the fans he did - and then some!
45 Bouts: 40-5-0 33 KOs.
Please take a moment to make a donation to the Corrales family, especially during this Holiday Season. You can do so at: Diego Corrales Family Memorial Fund, Nevada Bank of America Account. Account # 501002794596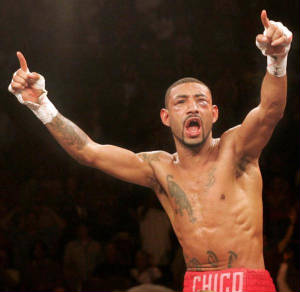 vs Manny Castillo
vs Juan Angel Macias
vs Eduardo Contreras
vs Hector Arroyo
vs Gairy St. Clair
vs Claudio Victor Martinet
vs Angel Aldama
vs Roberto Garcia
vs John Brown
vs Derrick Gainer
vs Justin Juuko
vs Angel Manfredy
vs Floyd Mayweather
vs Roque Cassiani
vs Felix St. Kitts
vs Damian Fuller
vs Joel Casamayor I, II, III
vs Acelino Freitas
vs Jose Luis Castillo I, II
vs Joshua Clottey
NEED:
Diego Corrales KO6 Benito Rodrigez (1998)
Diego Corrales TKO4 Steve Quinonez (1997) RR-D/L